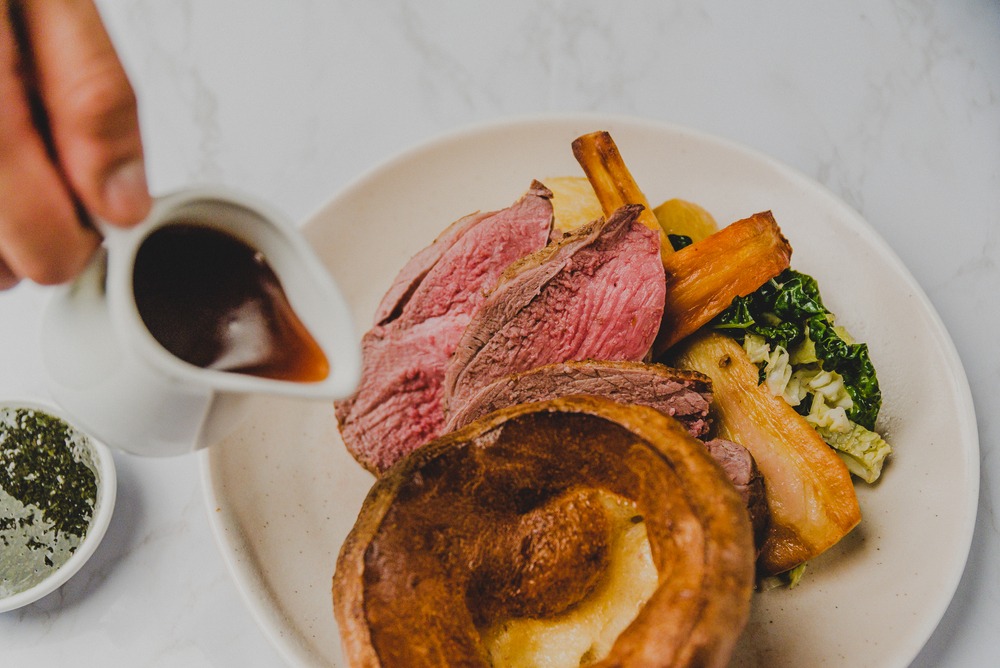 Where Does the Best Roast Dinners in Liverpool City Centre?
Weekends in Liverpool – Friday and Saturday will take care of themselves. In Liverpool, they always do: drinking, dancing, a late night Nabzys. At the beginning of the week, Friday and Saturday night seem to be within touching distance, but the real question — the one you might not have thought about until right now — is: where are we going for a roast on Sunday? This question requires an answer because it is vital if you're trying to round off the weekend properly.
So, you're feeling groggy on Sunday morning, trying to work out what happened last night and what the plan is for the day. Best to head out for something to eat: a roast dinner will sort you out. In fact, it's the only thing that'll do. Where? That's the real question, isn't it?
No worries: there are a plethora of great options in and around Liverpool city centre, and we've tried and tested some of the city's best Sunday roast offerings. 
Hanover Street Social
Infamous for its ludicrous Monday night offer — two courses and a bottle of wine (for each person at the table) — Hanover Street Social is a happy fixture in the local culinary scene, and has been for many years. The service is friendly and attentive.
The cocktails, ranging from every classic you could want or imagine to fabulous innovations, alone are worth a visit. The beers and wines are eclectic. The food throughout the week is always stunning; the Express Lunch Menu (2 courses for £14.95 or 3 for £18.95) is ridiculous value, too. But on a Sunday, on every Sunday, the place comes into its own.
Choose between roast topside of beef, honey and marmalade roast gammon, and chicken breast. If you can't pick between them, you can always add extra or pinch from someone else on the table's plate.
The roasts are served with traditional, seasonal vegetables (including cauliflower cheese), fluffy roast potatoes dusted with garlic and rosemary, and lashings of heavenly gravy — oh, and perfect homemade Yorkshire puddings.
Perfect with a bottle of red — maybe a Malbec or Pinot Noir — or one of the homemade soft drinks on offer. As if that wasn't enough, there is a serious selection of sides to pick through: pigs in blankets, Savoy cabbage and bacon, creamy mash…
All of this is featured on the Sunday Social menu (2 courses £18.95 or 3 for £22.95) so you'll have to make room for starters, such as crispy calamari and sticky, slow braised baby back ribs cooked with ginger and garlic, or desserts, the homemade sticky toffee pudding is always a winner, or you always indulge and go for the full three course option!
The Monro 
Just along Duke Street towards Liverpool One, you'll find this unassuming pub, complete with a wood burning stove set in a traditional, Liverpool puce sandstone fireplace, nestled at the corner of the junction with Suffolk Street.
Once upon a time, this was the home of the merchant and shipowner, John Bolton, a fabulously wealthy individual who could step out of his front door and stroll down to the docks to watch his ships sailing away to the ends of the Earth. Bolt was friends with George Canning and the ill-fated William Husskison (whose statue can be found alongside the last remaining back-to-back houses in Liverpool near the top of Duke Street), the same men who lend their names to streets in the Georgian Quarter and even their own docks!
Nowadays, this converted Georgian home now hosts a fantastic gastropub, and has been purveying beers, spirits and wines since the early Victorian period, and has been serving fresh, homemade food since the 1960s. The Monro takes its name from the early nineteenth century sailing ship, The James Monro, which was named after the fifth president of the United States, James Monroe. Let's just say the 'e' was lost somewhere in the Midatlantic.
When you sit down — and after ordering a pint or a glass of wine — you'll be able to make out the features of the former home, such as the original fireplaces and the luminous sash windows, and might even be able to work out how the original house might have looked all those years ago.
But you're there, primarily, for the food. All week, The Monro offers elegant, delicious gastropub staples in a cosy, friendly environment. Every Sunday, they offer up a great selection of roasts: lamb, beef, and honey roast chicken. Everything is served with amazing, fresh veggies, and spectacular homemade Yorkshire puddings.
We recommend that you book ahead to avoid disappointment.
The Baltic Hotel
If you're looking for a an upscale roast with a chilled atmosphere, suited to groups of friends, families and couples, the Parlour at The Baltic Hotel is the best restaurant to enjoy your Sunday roast.
The menu offers three meat options; beef, pork belly and chicken plus there is a vegan and gluten free option of butternut squash with feta cheese and more. Each roast dinner comes with all the trimmings and we mean all of them. Traditional sides such as roast potatoes and root vegetables but there are some unusual extras that you won't bee saying no to, such as the broccoli with hazelnuts and capers and the garlic creamed leeks. It is a taste sensation!
You can opt for two courses for £19 or three courses for £25 and when you've seen the full menu, we can guarantee you'll be opting for three courses because who can choose between a starter of ham hock croquettes or a dessert of lemon tart – we can't so we will be having both!

The Parlour also offer a bottomless sharing platter roast dinner which includes your choice of meat and all the trimmings! Keep the roasties coming!
Dockleaf
Nestled beneath the impressive redbrick tower of Liverpool's former behemoth brewery, Dockleaf is a comparatively recent addition to the Sunday roast dinner scene. However, it has quickly and deservedly become a prominent name on an already busy list, and they've recently branched out, too, taking on The Dispensary on Renshaw Street and Kelly's Dispensary on Smithdown Road if you're heading out of the city centre towards Penny Lane or Sefton Park.
Throughout the week Dockleaf are serving up delicious, comforting bowls of traditional (and blind) Scouse as well as burgers, loaded fries and pizzas. There's also an impressive list of drinks to mull over: Camden pale, wheat, and Helles lager, one of the best pints of Guinness to be had in Liverpool, bottled beers, carefully selected wines, and a dazzling array of curated cocktails, including an Irish coffee made with Guinness syrup. On a Sunday morning, though, what better way to start off than with a mimosa or a Bloody Mary or a refreshing, soothing shandy?
And all of that before we've even got to the Sunday food offerings. Grab a seat on the terrace if the sun's out and overlook the bustle below, enjoy a bevvy, and try and decide between the Sunday roast options.
Dockleaf serves tender, blushing slabs of garlic and rosemary topside of beef, honey and lemon roasted chicken supreme, or roasted butternut squash for veggies. Each option is accompanied by the traditional vegetables, Yorkshire puddings, and the leftfield but ineffably moreish Guinness gravy, which you'll definitely be wanting more (and more) of. There are sides to add on, too: pigs in blankets, honeyed parsnips, cauliflower cheese, and creamy mashed potatoes.
All in all, you can't go wrong spending a Sunday afternoon in any of these venues!