What our guests are saying
"Nespresso coffee machines and waterfall showers...love it"
"This is going to be our favourite place to stay when visiting Liverpool, what we've seen so far looks stunning .  [RainGirl – Instagram]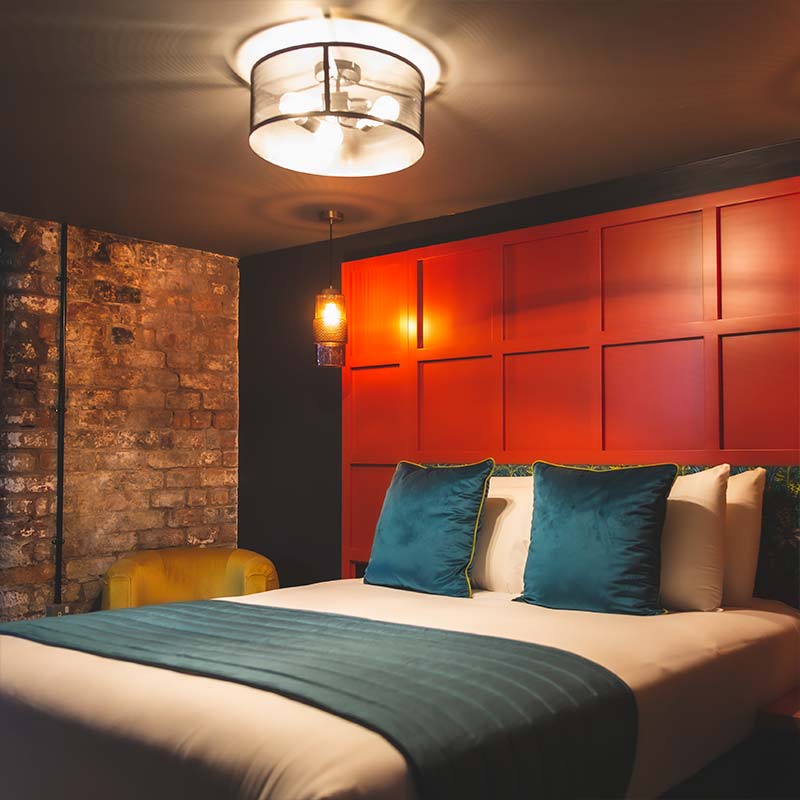 We're not sure if the exposed brick walls, the ambient lighting, fully stocked fridges or the hippest bathrooms in the city that make this one of our favourites rooms.  We do know that you are going to love.  Packed full of 'littles touches' and not shy of the latest tech. What more could you want for a base for your visit to the city.
Sleeps three, with a lounge equipped with a seriously cool sofa best so you can invite a friend or bring the kids.
Full of things you didn't even know you needed
WHAT TIME IS CHECK IN/OUT?
Check in is from 3pm and checkout is 10am but if you need to check in at different times, get in touch and we will do our best to accommodate you.
There are plenty of on street parking in the loc al area and several car parks within a few minutes walk from the hotel
DOES THE ROOM HAVE A MINI BAR?
All rooms are fitted with a Marshall speaker mini fridge which features a variety of drinks and snacks such as Prosecco, Beer, Liverpool Gin, soft drinks and chocolate treats.
WHERE ARE THE NEAREST BARS AND RESTAURANTS?
Baltic Hotel is located on Jamaica Street in the Baltic triangle District of Liverpool.  Located only a few minutes walk from some of the cities most popular bars and restaurants.
DO I NEED TO LEAVE A DEPOSIT?
A deposit will be required on check in. Please get in touch with us and we can advise. The depots is £50 per person and will be refunded on checkout but may take up to 5 days to show on your card.
WHAT'S THE CHECK-IN PROCESS?
Checkin is from 3pm on the day of your booking.  Our reception area is located inside the main entrance.
WHAT'S THE ADDRESS FOR MY SAT NAV?
Our address is 16 Jamaica Street.  We are the big beautiful looking corner building with the striking pink paint job.  Looks cool doesn't it.
CAN I FOLLOW YOU ON SOCIAL?
Sure you can, as long as you promise to play nice and share all of our posts with your friend(s).  @thebaltichotelliverpool
CAN I BOOK EXTRAS FOR MY STAY?
We offer a range of extras to enhance your stay, such as or packed Marshal min bars, Record players with classic vinyl collection.
Thought you'd never ask. It's 0151 318 5840
Let's bring you up to scratch