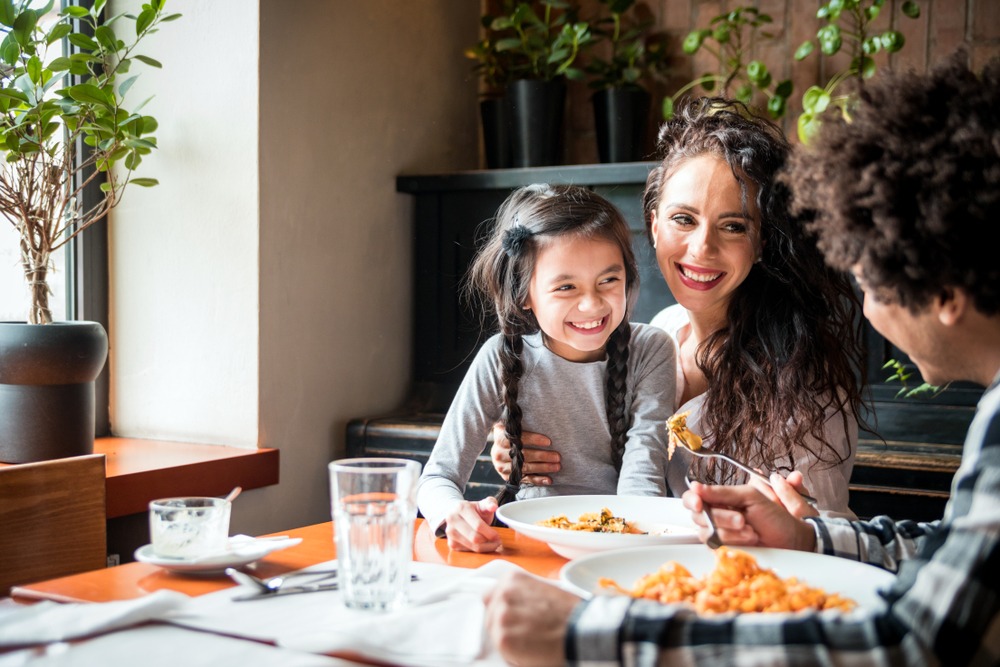 Tastiest, Family Friendly Restaurants in Liverpool
There are many fine establishments where you can enjoy a nice meal in Liverpool. From Asia to South America, there's multiple go-to places for almost all kinds of food, but sometimes you just want a flexible eatery that can dish up a fancy risotto for mum and dad, and a cheeseburger and chips for the kids.
Here we've put together a handy list of child-friendly restaurants you can head to in a rush if you just need a nice place to feed the family. Be on the lookout for: kids meal discounts, accessible locations and a lot of quality grub.
Yard & Coop
It's difficult to call the scran at Yard & Coop 'junk food', because honestly it's so much more than that, but in terms of describing their generaftal approach to dinner, their menu is something between chicken nuggets and chicken supreme. While most of it revolves around fried chicken, the interesting accompaniments are what will keep you coming back, from blue cheese dressing to Dr Pepper BBQ dip.
The kids menu here is absolutely top notch as well – the thing that sticks out immediately to us is the kid's Winner Winner Chicken Dinner, that comes with: creamy mash, garden peas, Yorkshire Pudding, gravy and buttermilk chicken – now you don't get kids meals quite as tantalizing as that everywhere.
What's Cooking?
This one's located right on the Albert Dock, and has a real American Diner feel about the menu. With their own set of personalised burger recipes, ice cream sundaes on the deserts and a kids menu with all the youngster favourites (cheeseburger, fish fingers, chicken wings etc), they are bringing the taste of route 66 to the shores of the Mersey.
The adult meals are rather pricey, but the kids eat for just £6, and that menu extends to anyone who's 12 and under, meaning you can almost get away with having the teenagers eat at kids prices – if you only had a way to look 20 years younger…
The Parlour at The Baltic Hotel
If you want somewhere where you can enjoy delicious food in stylish surroundings with a great family atmosphere, head straight to The Baltic Hotel.
The soft furnishings, cool vibes and open plan space make it a perfect venue for you to relax and unwind whilst your kids have a play!
The menu is versatile and has lots of choice for both children and adults! If you're looking for somewhere to host the ultimate family meal, head to the Parlour on a Sunday and try their Sunday Dinner Sharing Platter!
La Familiga
Right in the centre of Liverpool, in the Cavern Quarter by Moorfields station, La Familiga is perfect for any family looking for a great place to eat. For starters, they have it right there in the name, so you know that everyone will be catered for in this family founded restaurant.
They've got some seriously authentic Italian recipes on their menu, perfect for a mum or dad who wants to enjoy a slap up meal while the kids sit quietly and enjoy their food. And enjoy they will, with Familiga's kids menu, as they'll be treated to a bargain three course lunch consisting of: spag bol OR pizza and fries, soft drink and vanilla ice cream for just £7.
You won't get access to quality Mediteranian food for that price everywhere.
Cosy Club
Liverpool One is where you'll need to be to find the Cosy Club, a gorgeous establishment that at first almost seems too fancy to be going to lunch in. Honestly though, they cater to all kinds of appetites, proudly putting their own spin on just as much junk food as they do fancy recipes.
Their kids menu is also one of the biggest we've ever seen, featuring all the classic kids meals (burger and chips, chicken goujons etc) but also offering an alternative options for little tykes who are slightly more adventurous with their dinner – we're talking veggie stir fry and desert fruit bowl kind of stuff.
Bill's
There's more menus at Bill's than there is on the entire Albert Dock (don't quote us), so the choice on offer here is incredibly diverse. One of the things we immediately noticed about Bill's is that there are so many meal choices on here that look extremely healthy, which goes to show how committed these guys are to serving proper food.
The kids menus are just as diverse as well, with the kids breakfast menu offering granola as an option (you're a better parent than us if you can convince the kids) and the all-day version including a hummus and carrot sticks option for vegans.
What's more is that Bill's is located right in Liverpool One, so it's easily accessible from wherever you are in the city centre.
Smoke & Dough
It's not easy to find classy kids' food at a moment's notice, but that's exactly what you're getting at Smoke & Dough in Liverpool One. Their variety kids box contains a bit of everything – beef burger, fries, baked beans, chicken nuggets and a helping of mac and cheese, complete with a few cherry tomatoes and cucumber slices for the greenery.
But it's not just about the sprogs, Smoke & Dough do all kinds of adult meal deals as well, featuring a lot of barbecue food, beef brisket and pork belly. It's top quality meat here, and well worth a visit if you're looking for a place to eat and enjoy your meal together.